See on Scoop.it – Tracking Transmedia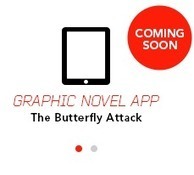 A fact-based 5 part interactive web series exploring the impending threat of cyberwarfare.
You never know who is in control.
"netwars / out of control"
• Makes it concrete: Battlegrounds – virtual and hidden – but real.
• Is based on actual facts, told in different formats, and explains not only what could happen but also what is already happening even today.
• The fact-based perspective of this crossmedia project marks a world first: With TV DOCUMENTARY, INTERACTIVE WEB DOC, INTERACTIVE GRAPHIC NOVEL APP, E-BOOK, AUDIO-BOOK and TV SERIES.
siobhan-o-flynn's insight:
From the site: NETWARS – THERE IS NOTHING VIRTUAL ABOUT THIS REALITY
Within a few minutes after a nationwide blackout, life in the metropolises collapses. Famines, lootings and riots follow. It bears resemblance to a scenario of a nuclear warfare movie. Yet, you don't need a bomb to induce such a catastrophe. Merely a computer would be sufficient.
The digital war affects every one of us, and it's happening right now as we speak.
See on www.netwars-project.com